Products
Automatic V Grooving Cutting Machine For Rigid Box Making
More
Automatic V Grooving Cutting Machine For Rigid Box Making KLZ-920
Automatic Grooving machine which can make/cut V shape on different material, such as cardboard, chipboard,rigid board, art papet, paperboard, gray board,corrguated board and MDF.etc.It has the best advantage: fast speed, high accuracy, dustlee, small noise,high efficiency
It can cut V groove for different package box, help you to make the box with high quality and completely straight edge and corner.
Machine Features:
Automatic Grooving machine which can make/cut V shape on different material, such as cardboard, chipboard,rigid board, art papet, paperboard, gray board,corrguated board and MDF.etc.It has the best advantage: fast speed, high accuracy, dustlee, small noise,high efficiency, simple adjustment. Help you to make the high grade quality box with completely straight edge after grooving.
Application:
This machine is necessary equipment for different package box makinh, such as Rigid box,cellphone box, gift box, chocolate box, jewelry box, shoe box, luxury box.wine box and other package box.etc.
Technical Parameters: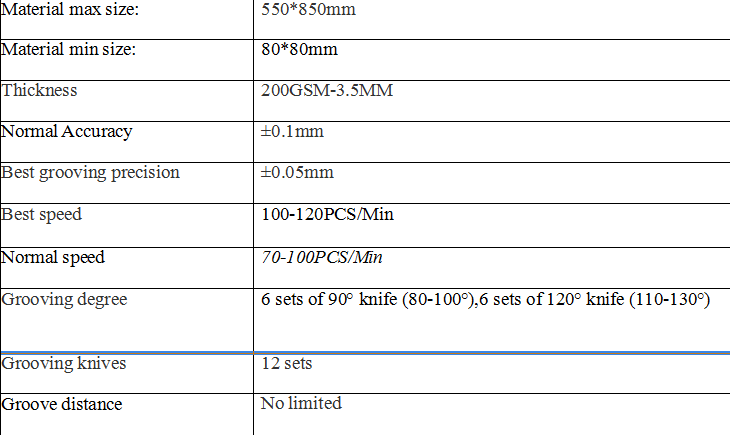 My company is the first designer of scroll/drum type grooving machine, we will supply the best professional grooving solution for different package application. We also can customized the machine for your specially requirement.
We can help you to make more beautiful package box and best professional package for you.